Are you sick and tired of buying dress shirts off the rack that only fit your collar, but leave the body and shoulders too big? Today's men are working hard to maintain lean bodies, but when their shirts do not fit properly, it's hardly flattering to all of that hard work.  The answer?  The custom dress shirt.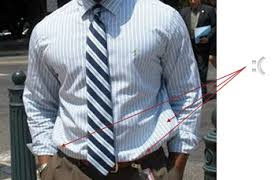 The above photograph demonstrates what many look like when buying stock-size shirts off of the rack (i.e. 16 ½ x 34). The collar circumference may be adequate, but the body is huge, the shoulders are too wide, and with his sloping shoulders, the shirt is "breaking" at the armhole which is also a little too tight.
CONSIDER THE CUSTOM DRESS SHIRT
There are features and benefits resulting from customizing shirts, greatly outweighing the added investment in image.  Here are some details of a custom-fit shirt:
FIT of a Custom Dress Shirt
Properly measuring for custom fit shirts allows for the fit to be precise, resulting in an enhanced image.  This includes measurements for:
Collar
Shoulders
Chest
Waist
Length
Sleeves
Cuffs
Shoulder slope
Posture incline
When measurements are properly executed, the results will be better-fitting shirts and a comfortable feel, as demonstrated below. This measurement process is a perfect match for today's trimmer silhouettes.
Over time, I have learned the value of conversing with my clients and paying attention to these many, varied bodily measurements – –  experience.   Some like:
collar heights adjusted for longer/shorter necks and standing just the right amount over the top-collar of the suit jacket. You should also be able to get 2 fingers inside the collar.
Shoulders in the proper width so to allow for easy and comfortable movement.
chest and waist areas to appear clean, without excessive fabric on these body areas or a too-tight fit so the buttons look like they're going to pop off.
a specific length. Longer looks are desirable if you plan on the shirt staying in your trousers without creeping out or a shorter style in case you decide to wear the shirt outside trousers.
sleeves slightly longer with the proper cuff measurement which allows the cuff to sit properly on the wrist and allows for easy movement while driving and if you wear a heavy watch like Rolex or Tag.
Notice how Roger Moore's collar (the best-dressed Bond ever, in my opinion) sits perfectly on his neck.  The collar's height is just right for standing over his suit coat and for the actual height of his neck. PERFECT!
DETAILS of the Custom Dress Shit
As critical as fit is for comfort and style, there are a vast array of options from which to choose to make a custom dress shirt uniquely your own, personalizing shirts to your particular preferences. For example:
Dozens of different collar styles from a button-down to extremely widespread.
Contrasting buttons and thread.
Contrasting collars and cuffs.
Contrasting fabric inside the collar and cuffs.
Many different cuffs and pocket styles to select from.
Monogram color and style.
Hundreds of fabrics
OMEROS® Custom, LTD has a wide variety of fabrics and the experience to ensure the perfect custom shirt.  We think you'll agree that the added investment in your image through custom-fit shirts will be rewarding in both look and feel, and will help you to…
DRESS Passionately!