Recently, Hickey Freeman made a splash for Fashion Week in NYC with their Spring 2016 collection, on a balcony at the Standard Hotel, using the city skyline as their backdrop. Their focus, under the direction of Chief Creative Director Arnold Brant Silverstone, was segmented into three primary looks:
"The Hamptons" – – is all about sand and sky with an array of beige, brown and baby blue, constructed in exotic fabrics like Cashmere and Silk.
"Battery Park" – – presented a redo group of softly constructed jackets in rare fabrics with waist suppression, trimmer silhouettes and shorter trousers in shades of grey, capturing that more youthful look.
"Manhattan Nights" – – focused on modern formal wear with models suited in denim jacquard tuxedos and one in a three piece, in midnight blue.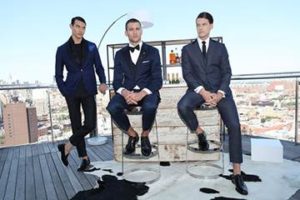 Karen Alberg Grossman, Editor-in-Chief of MR magazine, was quoted as saying, "Check out the classic elegance with a youthful edge at Hickey Freeman – my vote for the best Spring 2016 clothing collection."
Personally, I have enjoyed the honor and privilege of being associated with Hickey Freeman since 1976, the creator of these high-style looks.
I originally served as a Sales Trainee under the tutelage of Hickey Freeman, and have evolved into the developer and owner of a custom-made clothier service with an 11 year history featuring this collection.
With some of their Spring 2016 looks being slightly "fast" for the more conservative western NY market, their innovation and forward thinking is not. Moving into the future with shorter jackets and shorter trouser lengths with softer construction is just like our region moving forward with photonics, cancer and stem cell research and hydrogen fuel cells for cars.
In conjunction with their fashion advances, Hickey Freeman still maintains its roots in world class tailoring, offering the "HAND-TAILORED" collection, which this writer would pit against any quality made garment on Earth. This collection exudes handmade details crafted into the garment, just like the clothing mom and dad created when they worked at Hickey Freeman from 1954 (as immigrant Italian Tailors) until retirement in 1979.
We're able to offer our consumers everything from hip, modern looks, to state-of-the-art hand tailoring. Our clients love all the options Hickey offers them.
We've never meant it more then with today's Hickey Freeman, when we proudly boast our motto of…
DRESS Passionately